Back
Celebrating International Women's Day 2021!
We are celebrating International Women's Day 2021, which is important to us as a business as we now have more women than ever working within the Property team.  The photo below show's just some of our team, including our Finance Director and Chief Operating Officer.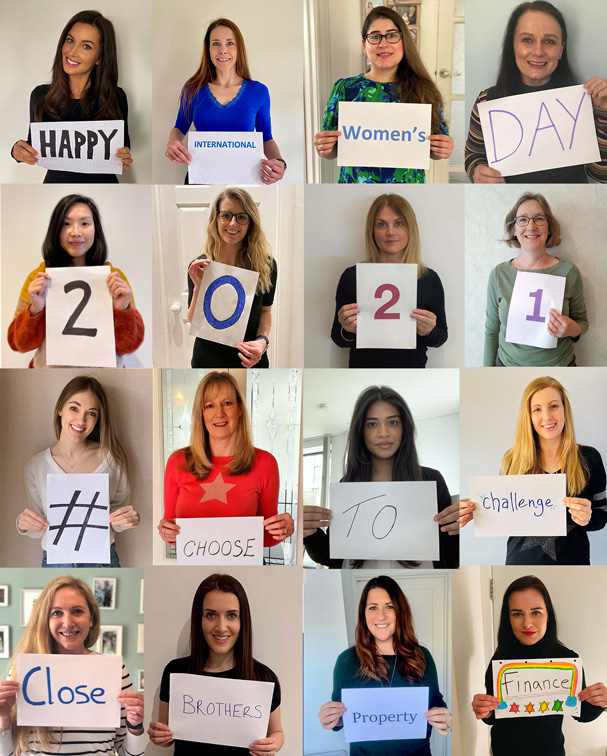 It has been nearly a year since we went into lockdown #1 and the year has brought many challenges for everyone.  We asked some of the women in our team to talk about the personal challenges they have faced over the last 12 months and how they have overcome and even taken some positives from this new way of life!
Here is what they had to say:
Ella Coates, Portfolio Manager
"I worked from home with a toddler whilst heavily pregnant - it was lovely getting to know my son better rather than handing him over to a nursery for 10 hours a day but challenging to remain professional during phone calls and meetings with him playing in the background. I found respite in teaching my colleagues yoga online and used the spare time to complete a yoga teaching qualification. "
Jo Catbagan, Finance Director
"I struggle separating work and home life but I've learned to manage my time more effectively, taking breaks whenever possible and sticking to a time in the day when I finish work. I also started practicing yoga (super basic only!) which helps calm the mind and body after a busy day."
Melanie Williams, Head of FP & A, Finance
"Going from maternity leave where I was entertaining two young children 24/7 to starting a new role in a new business has been a challenge, which although daunting meant I had more concentrated time with my children than I'm likely to ever repeat.  Working from home allowed me to ease back into work and enjoy some child-free time, whilst still feeling close to them as they were at a nursery. The benefits of technology also meant I could start building relationships across the business, although face to face socialising would be lovely at some point too! "
Annabelle Charman, Divisional Chief Operating Officer
"Learning to overcome the fear of being honest with colleagues about the challenges I was facing during the pandemic and how it was impacting me.  Otherwise known as putting on a brave face!  When someone asked "how are you?" I would have previously responded by saying "I'm fine thanks".  But over the past year I have learnt to be honest, so when I am struggling I will say "actually I'm finding things tough at the moment".  Being open with colleagues about the challenges I'm facing has helped to ease the pressure on me and in turn has encouraged them to be honest about their own struggles so we can better support each other"     
Olivia Luker, Graduate
"Lockdown has meant not being able to see family and friends like normal. This has been particularly difficult as we have yet to meet my baby cousin, Obi who was born in December. The extra time at home has meant that I have been able to bake lots of sweet treats, delivering them to my grandparent's doorstep when out enjoying some fresh air".
Jill Tattum, Senior Operations Manager
"Living alone has made working remotely for such a long time really challenging, but the support I've had from colleagues has been incredible. I've also taken the opportunity to get to know some of the team better as people and not "just" colleagues, and hope the way we've all seen into each other's lives this past year will be a positive we take with us into the "new normal""
Sidra Aslam, Senior Credit Manager
"While home-schooling came with its challenges, it certainly gave me good insight into how my 6 year old daughter engages with her teachers and friends. After a long and tiring day, juggling work and home-schooling (not to forget the lunches and dinners), one thought has always struck me – that the teachers who have been teaching 30 children everyday have the same challenges as me and they would still show up next day with even greater enthusiasm and energy – that kept me going and after months of disruptive learning, now there is a date to look forward to; 8th March 2021: school re-opening on International Women's Day 2021. Wishing you all a very happy women's day!!"