Back
Life Through a Lens: How to keep Britain building
*Meet the builder, the banker and the bathroom maker. The butcher, the baker and the candlestick maker missed the video call. It was a considered Zoom selection. Who do you bring together in a room, albeit a virtual one, at a time like this, to chew the fat and the fear in the face of an unique global crisis, brought about not by corporate greed nor financial mismanagement, neither warfare nor climate calamity? 
Most of us remember the countdown to the year 2000 and the Millennium Bug on all board meeting agendas, even if few of us had any clue what it was about, other than some mystical computer virus that technology would unleash as the clock struck midnight, plunging the world into darkness and chaos. It never happened, but we never expected a human virus 20 years later.
I dialled into the West Country to call Peter Andrew, still working hard, as well as tending to his alpacas. A housebuilding veteran Andrew was a board member at Taylor Wimpey, having started his industry career as a trainee QS at George Wimpey. He helped draft the National Planning Policy Framework and two years ago was awarded an MBE for 'services to construction.
Andrew has only marginally slowed down. He is deputy chairman of the HBF, but also with his finger firmly on the SME pulse as chairman of Burrington Estates, based in Exeter.  The banker I rang was Rowland Thomas, a director at Close Brothers Property Finance. Thomas joined Close Brothers in 1999 following the company's acquisition of specialist property lender Granville Bank and previously worked at Dunbar Bank and NatWest. He knows his numbers and knows his property.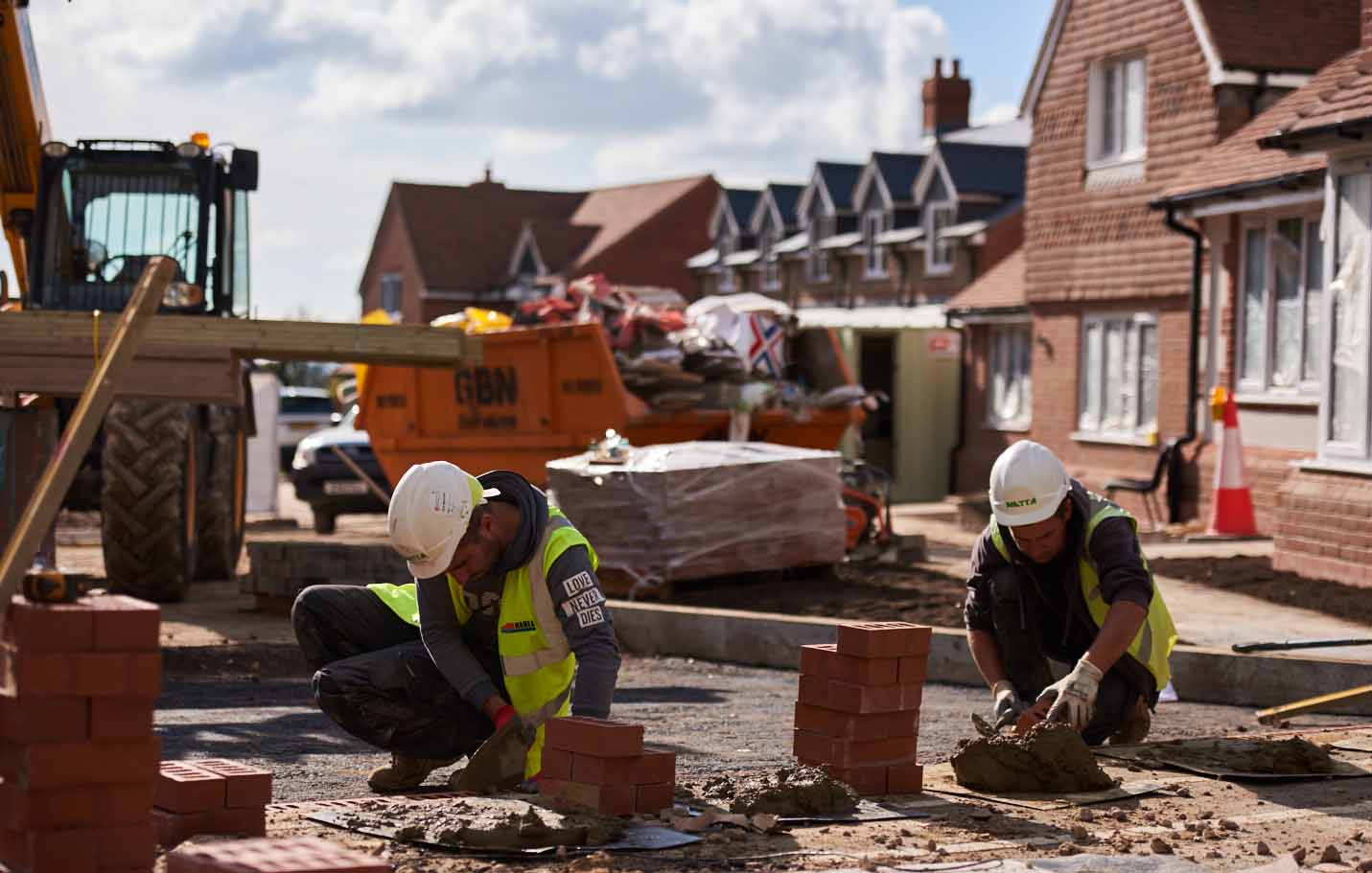 Alan Dodds has been UK managing director of Roca, the world's leading bathroom manufacturer, since 1999. Dodds started off in scaffolding and then roofing before moving into the bathroom industry and he also has the high-end Swiss bathroom brand Laufen under his wing, all backed by the global reach and brand strength of Roca out of the company's Spanish headquarters near Barcelona – a bathroom giant that has come a long way since it was founded by the Roca family in a Gava factory in 1917, initially making cast iron radiators.
A butcher, baker and candlestick maker could at least have provided a steak sandwich with mood lighting for our virtual 'lunch', but we had to make do with raising coffee mugs to the screen and only dream about the restaurant we'd like to host us out the other side. To business. Andrew said that as COVID-19 struck, housebuilders applied the brakes quickly with an estimated 75% of the industry furloughed.
Burrington built 175 homes in the year, which, with its year-end on March 31, would have hit 200 if the coronavirus lockdown hadn't disrupted completion of some affordable homes. The Devon housebuilder was only founded in 2016 and currently turns over around £60m a year and recently opened a Midlands office, with David Jervis, formerly of Spitfire Bespoke Homes, as the region's managing director. Burrington's sites reopened at the end of the April within Government and Construction Leadership Council guidelines and social distancing measures in place. "There are obvious implications for the time it will take to build, but we have locked up cash and people wanting to move," said Andrew.
Thomas, with Close Brothers Property Finance working with many SME housebuilders, made sure as the crisis hit and sites closed that they spoke with clients. "We stressed we were fully supportive and here to help resolve any issues. We're not going anywhere. At times like this, you can sit and sulk, or get on the front foot and move forward," said Thomas.
Andrew said valuers and lenders had a vital role to play in terms of how the market reacts to price and to ensure it is not driven south by sentiment and perception alone. Dodds said initially industry demand dropped to around 15% of normal working levels, with showrooms closed as retail outlets shut, and staff numbers in warehouses reduced but available to make deliveries on request.
"It is so important that the supply chain reacts quickly, with housebuilders naturally anxious to finish sold plots and realise working capital," said Dodds, with the main issues initially around heavyside materials including aggregates with quarries closed, rather than lightside such as bathrooms, with products stockpiled, or materials bulk bought ahead of Brexit uncertainty. "It is important to note that a lot of quarries and factories around the world closed due to government restrictions and reduced output simply down to demand and not for other reasons," said Dodds. "Mixed government messages at the time around housebuilders being allowed to continue as an essential industry certainly did not help the supply chain."
The trio agreed that the word chain had never been more apposite. One link in the supply chain breaks down, one material unable to reach site at the right time, and the entire building project is delayed and compromised. 
"Safety is, as ever, absolutely paramount. We have to prove our new processes are safe and adhere to guidelines. The Health & Safety Executive can prosecute if in breach of social distancing. It is now as important as digging a trench safely," said Andrew. Measures include staggered working times to reduce congestion and contact, the two-metre rule, as well as wide-ranging changes to canteens amid strict welfare and risk assessments.
Burrington Estes has appointed designated COVID-19 managers for each development with an enhanced cleaning regime, while trades will also be encouraged to travel to and from work alone. From the demand side, Andrew said there were 'levers government can tweak to bring customers back' especially around an extension of the existing Help to Buy scheme and Stamp Duty changes and to ensure that mortgages are still readily available at reasonable LTV levels.
Rowland said Close Brothers Property Finance prided itself on through-the-cycle lending. "I've personally worked through three previous and distinct property recessions. This is of course unlike anyone has ever seen before," said Rowland. If a site is underway we will always endeavour to fund through to completion, however long that might take. In terms of sites not yet acquired or a loan that hasn't yet drawn, we must make sensible commercial decisions around likely demand and values going forward and can re-base as necessary.
Thomas says there are sites that were about to go-ahead before COVID-19 struck. "We apply sense checks and work very closely with our clients, but also challenging housebuilders to stress tests their models and strategies in the light of the restrictions. If it stacks up with a sensible margin, we will fund." Even in lockdown with a divisional loan book of £1.8bn, Close Brothers Property Finance has still been writing new business and agreeing loans for both new and existing clients.
With Roca very much a global operation, Dodds says every country has been approaching business support differently, with the UK government being more proactive than most through its furloughing and loan measures, even if those funds, such as CBILS, were complicated to access. "We are allowed to get on and run the UK side of Roca as best we see fit and according to local market conditions and therefore our business is intrinsically linked to the UK economy."
Dodds wears another hat as president of the Bathroom Manufacturers Association. "There are of course areas of commonality and shared information and knowledge, but we are also competitors. There has been plenty of good industry communication throughout the supply chain during this crisis," said Dodds.
Andrew says how the land market, as a developer's single payment, reacts will be crucial, especially for SMEs. "There will be a lot of discussions with landowners about how builders can carry on paying for land at realistic prices without killing cashflow. Perhaps they will pay for the land on the drip, or on legal completions."
The crisis has highlighted the 'just in time' approach to housebuilding says Dodds, but the Roca boss doesn't see this necessarily triggering more manufacturing output in the UK, not least due to the capital intensive investment required and the length of time for a return on it. Andrew said that regardless of your opinions on Brexit, the virus highlighted how countries become more inward looking in crises, doing their own things. "When the chips are down you look inwards."
Looking through a Zoom lens at these three captains navigating choppy waters, the industry's future might look very uncertain, but with shared conviction and knowledge, there is plenty of experience to steer the housebuilding ship through this unprecedented storm.
*Article written by Rupert Bates and published in Showhouse Magazine in May 2020.
 
I've personally worked through three previous and distinct property recessions. This is of course unlike anyone has ever seen before
Rowland Thomas
Director, Close Brothers Property Finance