Back
Relationships are the foundation of our business and here at Close Brothers Property Finance, we are immensely proud of the strength of our team in building and nurturing those relationships. Here we meet some familiar and less familiar faces, who make Close Brothers the thriving institution it is today. Watch this space for regular updates from our dedicated team.
19th October 2023
This month we spoke to our Divisional Finance Director Jo Lavers. Here is what she had to say:-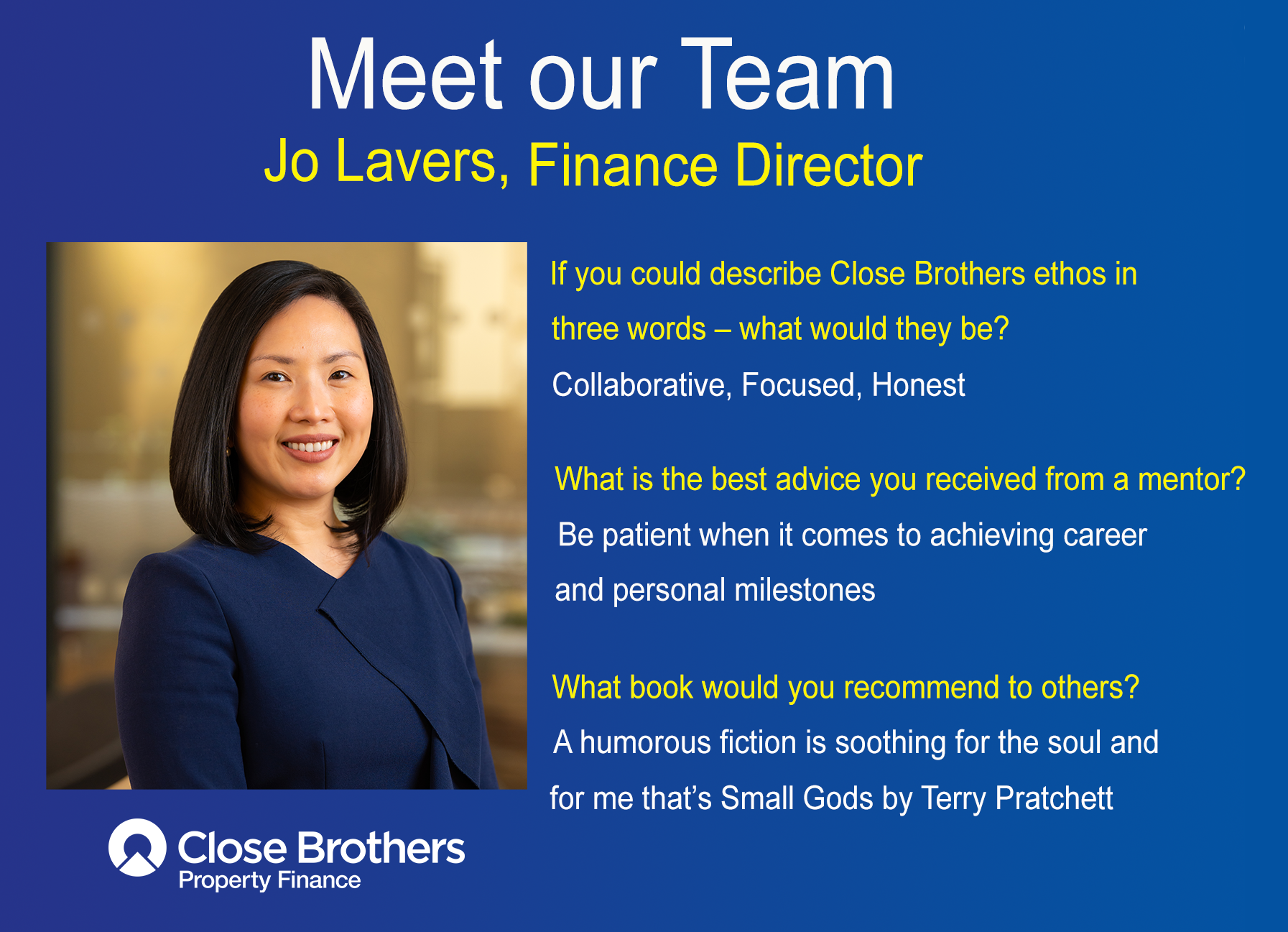 Can you tell us about your role at Close Brothers Property Finance?
I am the Finance Director of Close Brothers Property Finance. I oversee the business's financial health and work closely with the board to manage our financial strategy. I lead a small team and together we are also responsible for ensuring compliance with the relevant statutory and regulatory reporting requirements.
If you could describe Close Brothers ethos in three words – what would they be?
Collaborative, Focused, Honest
What advice would you give young professionals looking to enter the property finance sector? 
Maybe a cliché but our sector is really about people, so it is important to be willing to interact with others to get the job done. Expertise and experience in specific areas of property finance can be gained over time but from what I have seen so far, those who excel are the ones who can deal with people from all walks of life. That goes for within the organisation and externally with existing or potential clients, suppliers or partners.
What is the best piece of advice you received from a mentor?
Be patient when it comes to achieving career and personal milestones.
Work-life balance is very important, what do you do outside of work to keep it in check?
What I look forward to the most are holidays particularly where there are beaches, wineries and good food! I'm also fortunate to have family and friends who live close by, so I make sure I spend time with them on a regular basis. At home, my husband and I enjoy hosting dinner parties although I must admit he does most of the cooking (as long as it involves a BBQ!) while I do the chatting.
What have been some of the most rewarding moments of your time at CBPF?
One is being appointed as the Finance Director four years ago. It took a lot of hard work proving myself in different parts of the wider Bank before getting the role, so it was gratifying when I finally got the job.
Four years in, what I find rewarding is watching the team I built gain credibility and recognition as experts in our respective fields. 
Where is your favourite place to travel?
If I have to pick just one, it's Spain. We bought a holiday home in a small beach town a few years ago. We try to visit as regularly as we can especially during off-season given that is the best time to have the coast to ourselves and to explore other villages and the wine regions.
What is one book you would recommend that others read? 
A humorous fiction is soothing for the soul and for me that's Small Gods by Terry Pratchett.
What's your favourite series?
This has to be Sherlock by the BBC. It was true to the source material but the way it was adapted to the 21st century I thought was very smart, funny and hugely entertaining.
 
10 August 2023
This month we spoke to Business Development Director in Scotland & Northern Ireland, Gary Ferris.  Here is what he had to say:-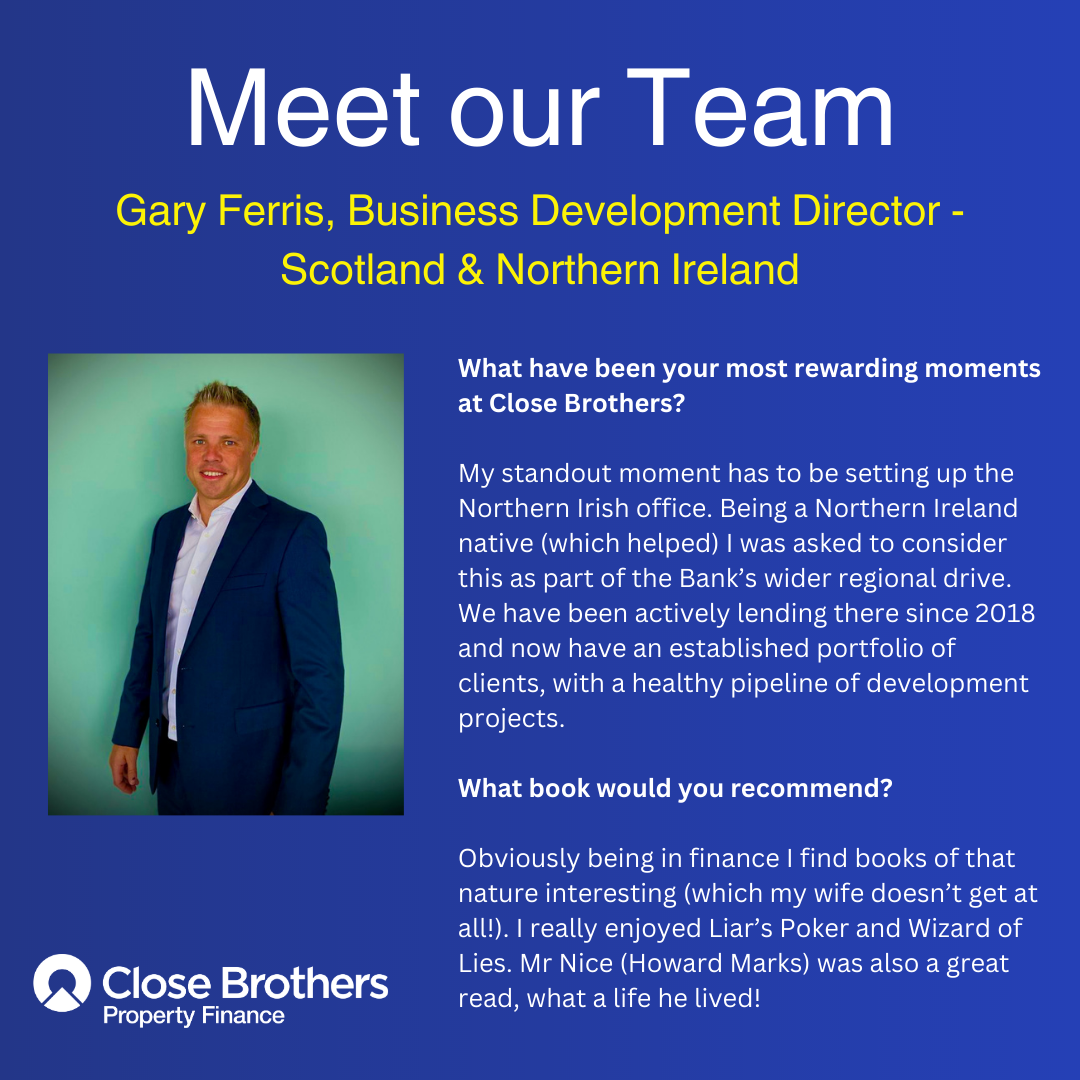 Can you describe your role in one sentence?
I am a Business Developer Director covering both Scotland and Northern Ireland, with the focus being on residential development funding. I focus on identifying business opportunities and development projects, fostering new relationships and expanding my network of borrowers.
What have been some of the most rewarding moments of your time at CBPF?
My standout moment has to be setting up the Northern Irish office. Being a Northern Ireland native (which helped) I was asked to consider this as part of the Bank's wider regional drive. We have been actively lending there since 2018 and now have an established portfolio of clients, with a healthy pipeline of development projects. I also have an assistant based in Belfast to keep me company and to share the workload with.
How did you get into the business development side of the business?
I had a job in finance but was keen to get into property (this was before the crash). I had a chance meeting with an old school friend in a pub and he mentioned that the bank he worked for was recruiting. I sent him my CV and six weeks later I found myself working in a property finance new business team.I'm still in the same sector 16 years later, albeit with a different bank.
Where is your favourite place to travel?
Spain, including the various Spanish islands.  I tend to go most summers.
What is the best piece of advice you received from a mentor?
Don't procrastinate, just get it done.
What is one book you would recommend that others read?
Obviously being in finance I find books of that nature interesting (which my wife doesn't get at all). I really enjoyed Liar's Poker and also Wizard of Lies. Mr Nice (Howard Marks) was also a great read, what a life he lived!
What's your favourite series?
The Sopranos was brilliant and more recently, I liked Ozark.
Connect with Gary Ferris on LinkedIn
7 June 2023
This month's "Meet the Team" blog is from Lending Team Director Dan Joyce, who shares some background on what motivates him, what advice he has been given and much more.  Over to you Dan...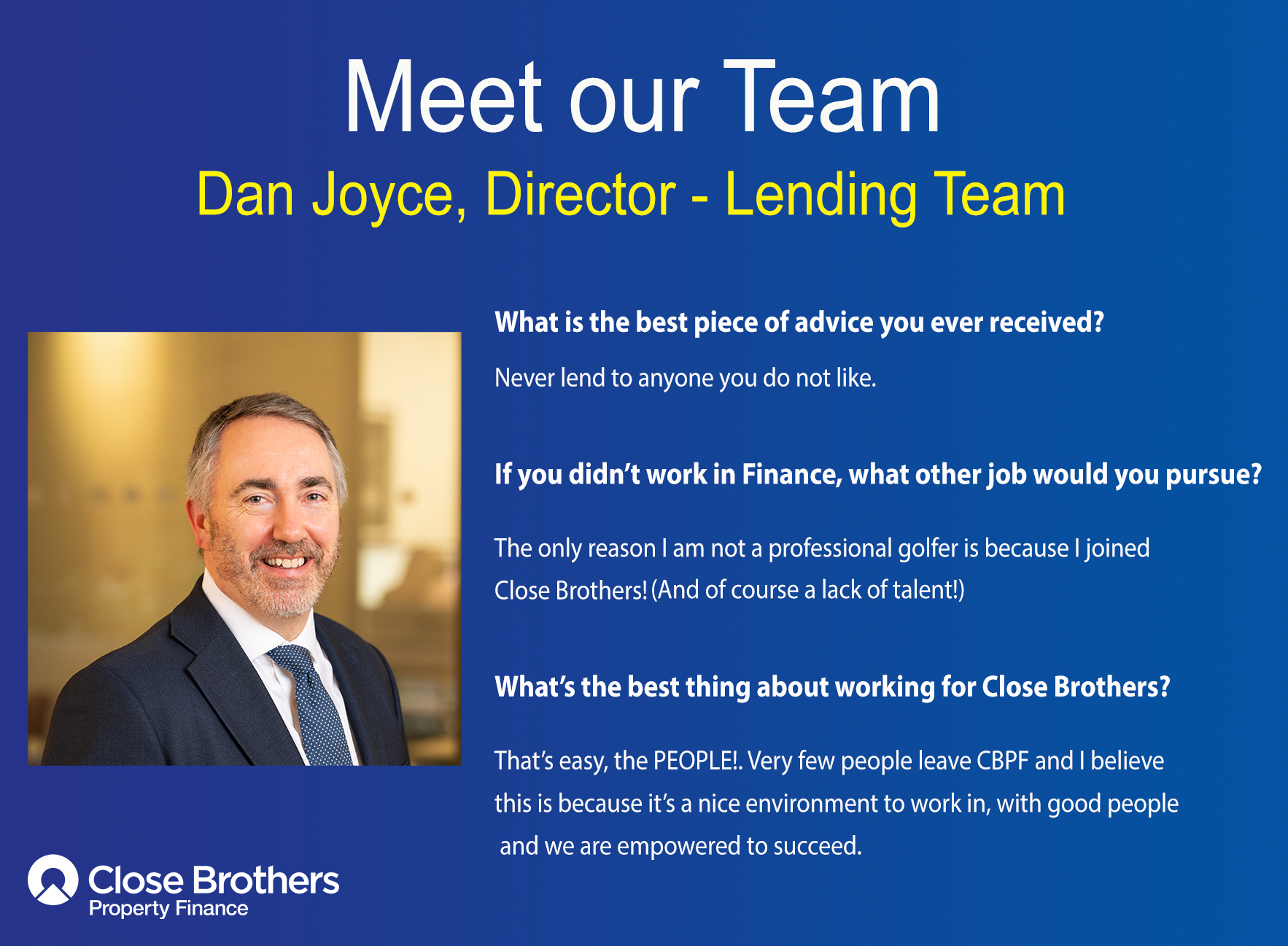 What is your role within the company?
I am a Director and sit on the board of Close Brothers Property Finance with responsibility for overseeing a team of six lenders, their supports and the Marketing team, as well as manage my own established portfolio of developer clients.
What is your favourite work memory and/ or your worst?
I'm very lucky that I have achieved a lot and have so many great memories, some very amusing, whilst at the Bank. But drawing down on the largest deal after the GFC (funding enabling works on a pre-let waste disposal site in Essex) was a real highlight and helped accelerate my career (especially after it was repaid). Sharing the success with my colleagues in a local bar was an added bonus! The worst was being informed by a close colleague of mine that he had been given some terrible news about his health. 
You have been in the business and sector for over 20 years, what keeps you motivated?
The work I do within Close is very varied with no two days the same (be it looking at a new deal, meeting new clients or credit approving new opportunities) and being part of creating something tangible is quite rewarding. In addition, we have some fantastic projects ongoing which are aimed at supporting the SME house building sector, which include the "State of Play" survey alongside the HBF and Travis Perkins, the Escrow Agreement which enables SMEs to access greater credit limits on materials from Travis Perkins and our Tomorrows Developer network.  I am fortunate that I am involved in each of these projects which are aimed at helping the sector break down barriers, be it ensuring Westminster is aware of the challenges SME house builders face or helping the next generation get a foothold in the industry.
When and where are you the happiest?
I'm certainly at my happiest when I am with my wife Jodie, whether that be out with our dog, Boss, or travelling around the world. As well as   spending time with my son Ben watching Chelsea at Stamford Bridge (at least when we are winning).
What is the best piece of advice you ever received?
Never lend to anyone you do not like.
If you couldn't work in Finance, what other job would you pursue and where in the World?
The only reason I am not a professional golfer is because I joined Close Brothers (and of course a lack of talent!) 
What is one book you would recommend that others read?
I'm not a prolific reader, however from a fiction point of view I really enjoyed the Millennium Trilogy i.e. Girl with the Dragon Tattoo and so on. In non-fiction, I like the ideas and principles focussed on by Matthew Syed in his book Bounce. I'm currently reading the Goldfinch by Donna Tartt … its long! but I've been promised a trip to the Hague to see the painting once I've finished.
If you could live a day as any one celebrity, who would it be and why?
I think it would be Rory McIlroy during Masters' Weekend, as it's the only way I am ever going to get to play Augusta. 
What's the best thing about working for Close Brothers Property Finance? Is there a worst?
That's easy, the PEOPLE!. I am very lucky that I have worked for the organisation for over 20 years, during which time I have worked with industry leaders and experts who have been instrumental in creating a culture that breeds commitment, alongside success, and has helped establish a reputation that is unrivalled in the sector. It's a fact that very few people leave CBPF and I believe this is because it's a nice environment to work in, with good people and we are empowered to succeed. At the risk of sounding a bit sad, in all my years here I have never woken up and dreaded going into the office/performing my job. And of course not!
What is one chance you are glad that you took?
Early in my career at Close I was offered a role elsewhere, accelerating my career into a front office role and a big increase in salary. The belief shown in me by my colleagues in convincing me that Close Brothers was the right environment for my development made it an easy decision to stay. Since then, I have been promoted several times including to the Property Finance board eight years ago, whilst the organisation who offered me a role did not survive the GFC. 
Connect with Dan Joyce on LinkedIn
18 May 2023
The latest "Meet The Team" blog comes from Hassan Ajmal, Senior Portfolio Manager in our Bridging Finance Team in Manchester.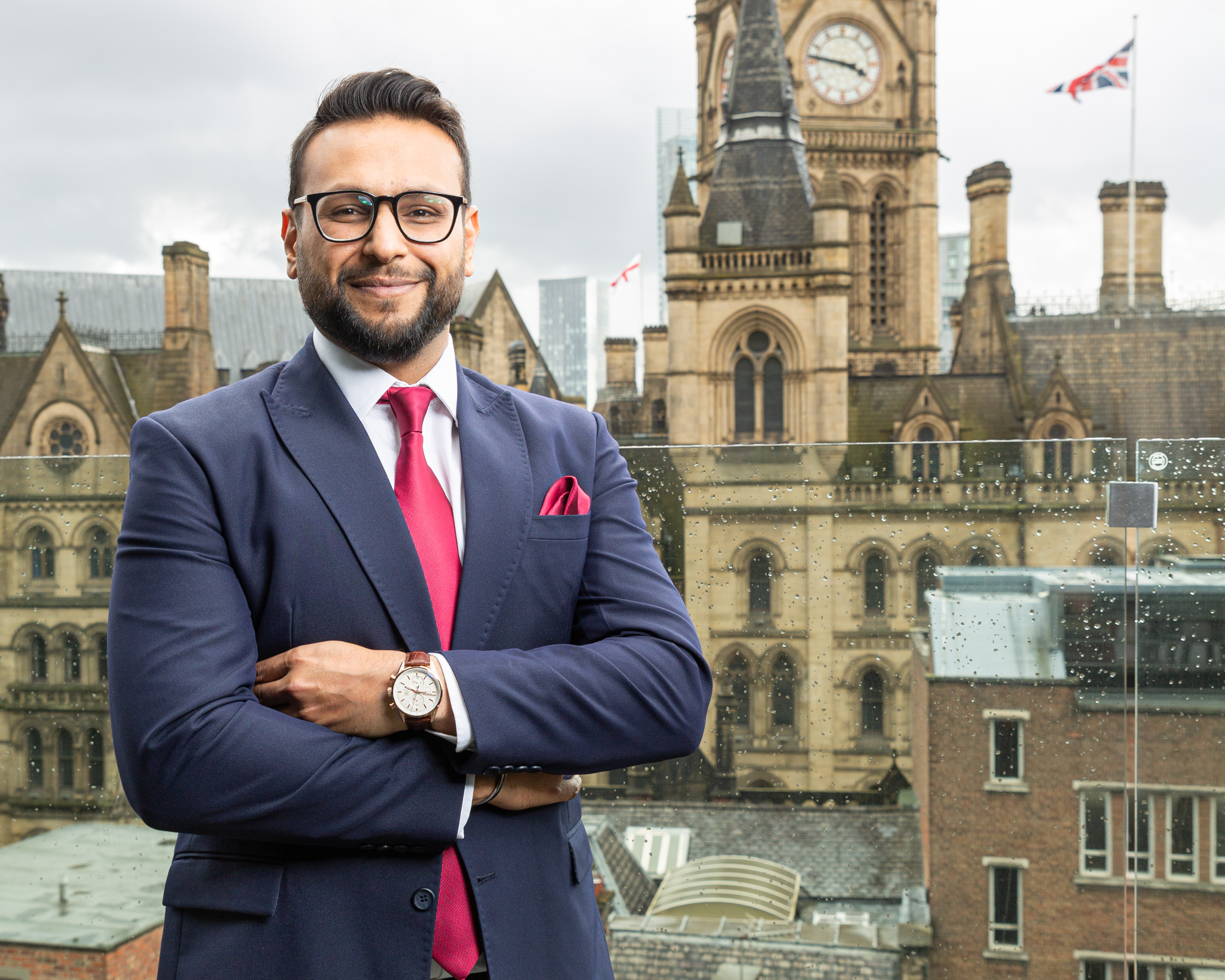 What's the best thing about being part of the CBBF team?
It feels more like a family than a team, everyone pitches in and offers each other support. 
Have you ever met anyone famous?
I have met a few famous people, but my favourite was meeting Roy Keane at a petrol station. I couldn't resist asking him for a picture! Obviously, he wasn't happy about it but agreed. 
If you could choose a superpower, what would it be?
I would pick flying because I'd love to see the world from a new perspective. 
What's your favourite food?
It's got to be a curry.
What's your favourite series?
Game of Thrones! Incredible action and storyline.
Get in touch with Hassan on LinkedIn here
4 May 2023
This month we hear from new joiner, Data & Systems Analyst; Gabriel Correia.  Gabriel joined the Property Division in January, he worked previously as a Data Integrity Specialist at Hazel Tree and prior to that at JP Morgan. Gabriel talks about his new role, he offershis advice to others joining the Property industry and he tells us what he gets up to in his spare time.  Welcome to team Gabriel!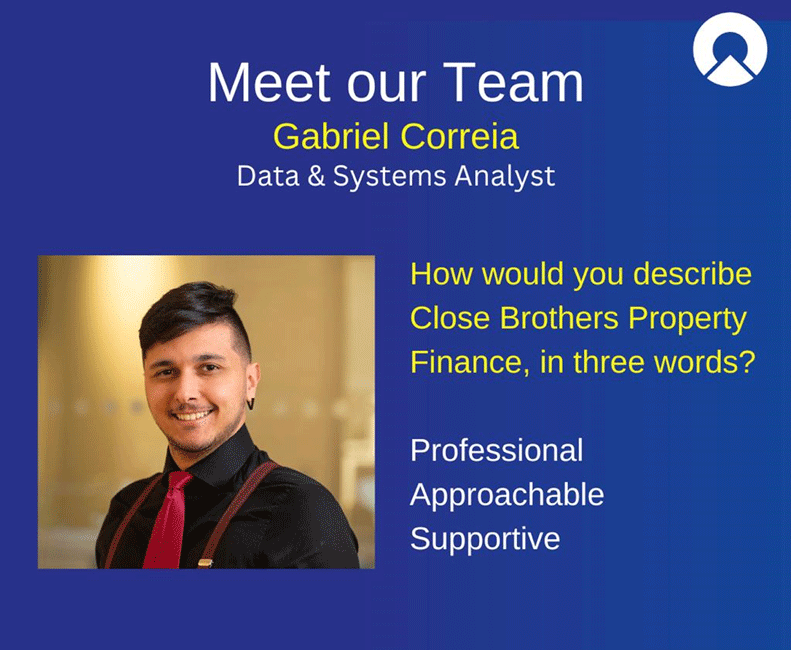 Can you tell us about your role as a Data & Systems Analyst at Close Brothers Property Finance? 
My role consists of using tools to pull data for reports, automating manual processes, and visualising data and revealing patterns for analysis.
If you could describe Close Brothers in three words what would they be?
Professional
Approachable
Supportive
What advice would you give young professionals looking to enter the property finance sector?
My advice to anyone trying to make a career change (which is what I've recently done) is that once you really identify what drives you just stick to it and keep preparing yourself for when the right opportunity comes, because it will! You can definitely achieve whatever you set your mind to.
Work-life balance is very important, what do you do outside of work to keep it in check?
Coming from abroad I really appreciate being one of the few lucky ones that still have their family close by after leaving their country, so I try to spend as much time as possible with my family, and allocate enough time for rehearsals and improving my guitar skills. I have been playing the guitar since I was around 12 and I currently have a rock cover band in Bournemouth, where I live. Other than that, I like to spend time out with my friends and enjoy the Bournemouth Beach whenever we have the right weather. 
(19) Gabriel Correia | LinkedIn
18 January 2023
As we start the New Year, Business Development Manager Joe Wilson reflects on the importance of relationship building at Close Brothers, his progress at the Bank and advice on how to excel professionally.  

Tell us about your career path and entry to Close Brothers Property Finance…  
 I started at Close Brothers in 2014 having previously worked for an Irish bank, which had succumbed to the recession. My initial role as a Portfolio Manager progressed to a Senior Portfolio Manager position, which I held for eight years, but I have recently been promoted to a Business Development Manager - this was always my goal, so to achieve the promotion is great, but it's just the start. 2023 is upon us and even though uncertain times are forecast, I'm very much looking forward to getting out there and building new relationships.  
How important is 'relationship' lending to the Close Brothers Property Finance ethic?  
Relationships are paramount to what we do as they enable us to understand our clients' requirements. Whether it be at the initial stage of discussing the scheme, during the development or finally exiting. Requirements may change throughout so, having that trust to discuss different matters, enables us to provide the service we expect to deliver at Close. A healthy relationship is important in the good times but essential in the uncertain. If we have the element of trust, we can work together to ensure all parties achieve a successful outcome.  
What do you need to be successful and what career opportunities are available?   
You can progress from the bottom to the top if you really want it and this is evident from the high numbers of my current colleagues who have progressed likewise. Some from back office into senior front office positions and some from there to director level. I would say you have to be committed, driven, a people person and sociable.   
Work life balance is very important, what do you do outside of work to keep it in check? 
I try and get to the gym, but with kids and a growing family that seems to get harder every day. Family holidays in warm destinations, swimming and playing football with the kids help me to keep that essential balance. I do manage to get to quite a few West Ham games though, allegedly for relaxation! 
If you had the chance to be on Celebrity Big Brother, who would you like to be with you? 
If was in the CBB house it would have to be with people who would keep me entertained. Ricky Hatton, Jimmy Bullard, Micky Flannagan, Kelly Brook, Jessica Alba, Jennifer Lopez. Sportsmen, a comedian, model, actress, singer. Should keep me entertained!  
Describe Close Brothers Property Finance in three words. 
If I had to describe Close Brothers in three words it would be successful, understanding and resilient.