Back
SME Housebuilders are vital to the nation's economic recovery – so how do we support them?
When you realise the total number of Small and Medium-sized Enterprise (SME) housebuilders has decreased by 80% over the last 30 years, it becomes very apparent why we continue to face a housing crisis and fall short of our housing targets year on year.
Having supported SME housebuilders for over 40 years, we at Close Brothers Property Finance are acutely aware of the challenges faced by our borrowers. Hand in hand with the Home Builders Federation (HBF) and Travis Perkins PLC, we are committed to removing barriers to entry and growth.
Our State of Play: Challenges and opportunities facing SME home builders report, created in tandem with the HBF and Travis Perkins PLC,  is one of the most extensive qualitative and quantitative pieces of sector research conducted, to inform and support a reverse in the decline of SMEs within the sector. The report was launched and referenced at the HBF's 'Housing Market Intelligence Conference' before being presented to the All-Party Parliamentary Group (APPG) on SME House Builders.
It is clear to us at Close Brothers Property Finance that only by mapping out the barriers to growth and identifying how to remove them, can our industry hope to revitalise a sector which is essential to our nation's economic recovery.
Over 1,000 SMEs from across the UK, half the total number in existence, were issued with a detailed survey which examined changes surrounding the supply and cost of materials and labour, development finance, challenges within the planning process, the impact of Covid-19, and multiple government policies. The majority of responses were unanimous in highlighting a convoluted and slow-moving planning process as the primary challenge to growth, Respondents also noted an increasingly unequal playing field when it came to competing against their Plc housebuilding counterparts.
It is evident from this feedback that a simplification of the planning process would allow SME housebuilders the freedom necessary to reverse their decline. Removing the challenges around the planning systems will certainly not be achieved with one simple cut of red tape. Local planning authorities require a significant uplift in resources and investment to process the number of applications coming across their desks. This is of particular concern during a year where many local authorities will be focussed on all-out local elections, including a post-election period where regime change will likely result in new councillors acclimatising to new roles.
We have seen from our diverse client base the significant employment and apprenticeship opportunities which SMEs can bring to communities – which is echoed in our survey results, with 60% of SMEs training apprentices. SMEs also utilise smaller and more complex parcels of land in urban/suburban areas, which the larger developers cannot use and which often lie dormant for years. As well as providing well designed, innovative and sustainable homes on this land, these developments also represent an injection of wealth and local spend into these neighbourhoods.
Increasing the number of SMEs is not something which will be resolved with a silver bullet, one piece of legislation, or even one report – as we all know, housebuilding is not a tap which can be easily turned on and off. It will be a long road to change, and we at Close Brothers look forward to continuing to support SME housebuilders on that journey.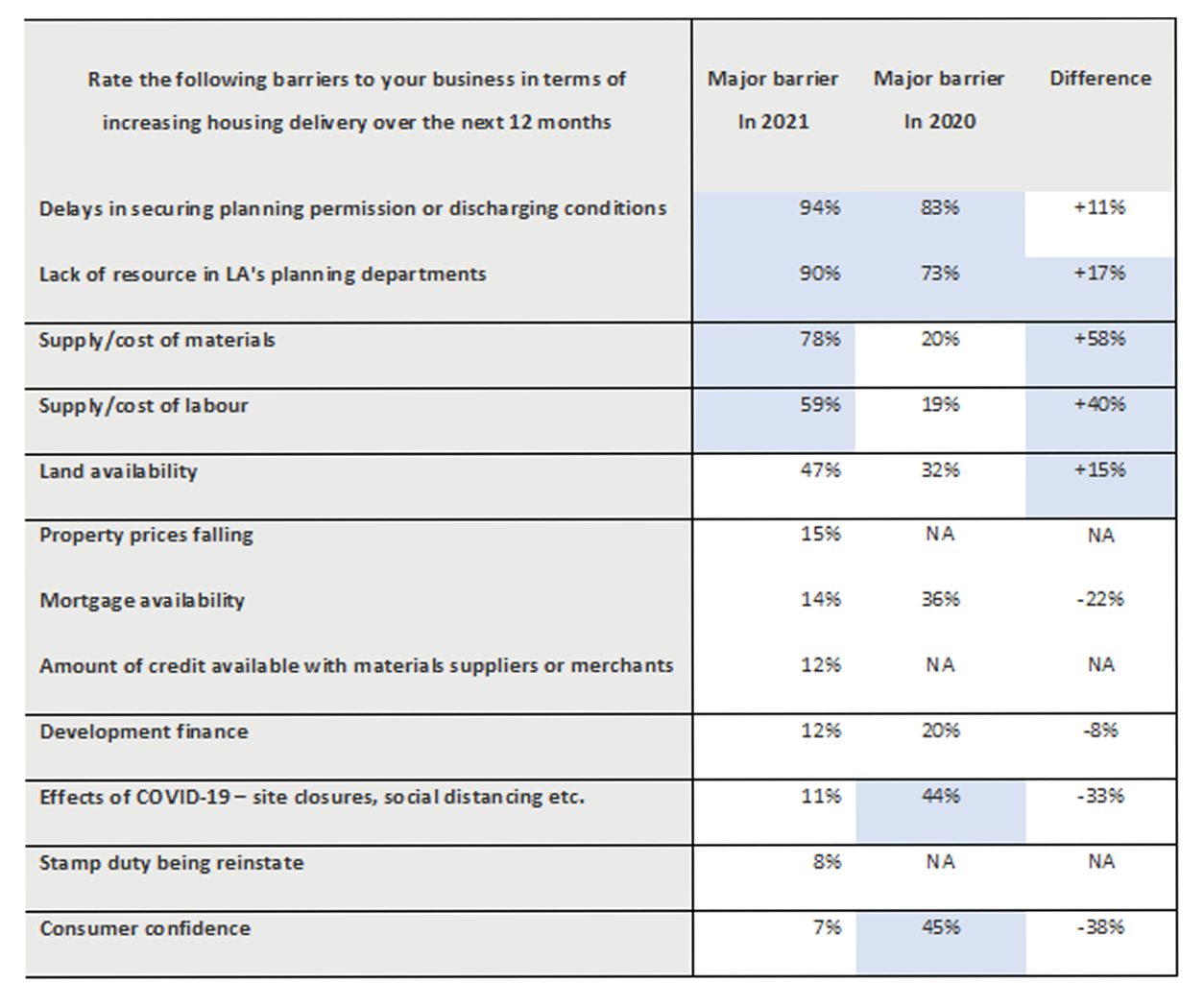 Stewart Baseley, executive chairman of the Home Builders Federation comments: "Recent decades have seen a collapse in SME builders numbers and the survey shows the considerable challenges the sector continues to face. Every single SME I speak to is suffering badly from delays to the planning process. SMEs are literally having to put their businesses on hold whilst Local Authorities delay the start of construction as their planning departments don't have adequate capacity to process applications effectively. Allied to concerns on materials and staff, planning delays threatens the demise of even more SME builders."
To read the full report visit: https://www.closepropertyfinance.com/news-and-insights/state-play-2021-challenges-opportunities-facing-sme-home-builders
What are the major barriers to growth for your business?